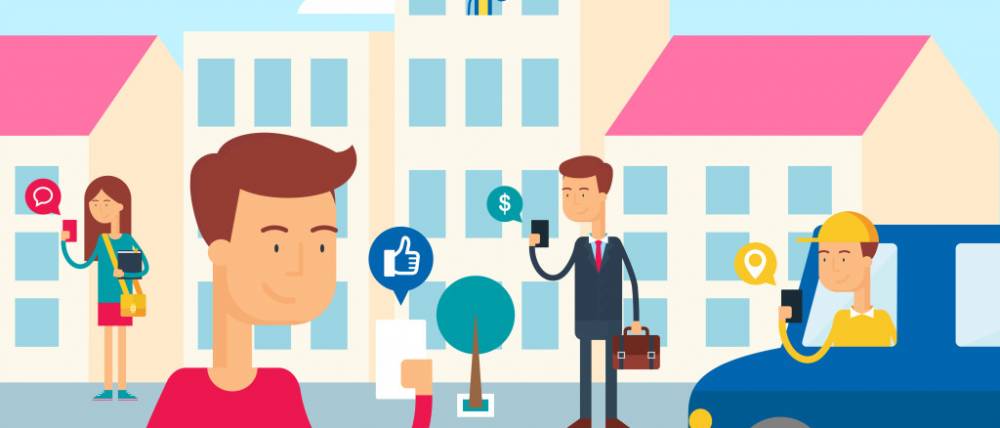 Similar to the evolution of Human as a Homo Sapiens or what we can even say Modern Human, there has been a transition of technology too. The rapid invention or technology has brought comfort to our bedroom. From Theater to Television, Landlines to mobile phones and from mobile phones to smartphones. In fact, a Smartphone is not only a mobile phone rather it is a compact companion to today's modern era. We use it as a watch, as a dairy, shopping and many more. This is quite evident with the time we spent on mobile. In an annual report by App Annie, an analytics company said that in 2017 Indians downloaded 12.1 billion apps on their phones and tablets, compared to 11.3 billion in the US. It means that the mobile apps usages in India have tripled.
This rapid growth is a result of Jio's 4G low-cost data plans. In a surge to compete Reliance strategy, there is a cut-throat competition which is benefitting the mobile user. Looking at this scenario, a growth of the business through mobile apps is definitely going to shoot up. And this is the right time to get build your mobile app for your business from Mobile app development companies in Mumbai. Every business module has gone on mobile apps to increase their sales and lure customers. From movie ticketing-BookMyShow to restaurant ordering-Swiggy, to eMenu -eWineDine, these all have business sure shot made more profit through Android & iOS app development company. Since, mobile apps are customer-friendly, which is the reason why customers opt for mobile apps compared to the physical market.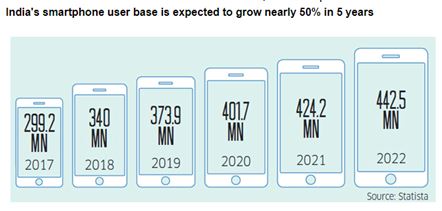 The best part of the mobile app is that it breaks the geographical boundary for your business. You can grab the attention of your potential customers' thus increasing your customer base. Among all demographic, women are the best segment to target, as they like to try new prospects compared to men who stick to their preferences. Also, with increasing numbers of working women and bachelors, they prefer online shopping for every need- from household to fashion. With Chinese mobile phone becoming popular in India, budget phones are taking over the market and it's about the increase in near future. It is no more only for millennial, but for people of all ages. According to Statista, smartphone user will increase from 299.2 million in 2017, to an expectation of 442.5 million in 2022.
Another benefit of mobile apps to business is that identifying potential customers becomes easy. At the same time, you can offer discounts to customers thus gaining them loyalty. In short, a mobile app is a key to success for every business, which is a witnessing from the government is also resorting to a mobile app, like UTS- a mobile train ticketing app. Entertainment apps like TVF, Alt Balaji, and many more are making way for other business like music apps, payment apps, banking apps. App development companies are the one who needs to be approached as a final resort.
An online platform like a mobile app is a platform where sellers can easily sell their products to their customer directly on their mobile. This not only provides ease of selling but also enables direct interaction with interested customers. Changing behaviour, customer preferences, likes, dislike, and other things can also be evaluated through online selling. This will increase the scope for small vendors increasing their sales and profits. There are many mobile development companies like Limra technosys which gives an array of services at affordable rates.