Website development company in Mumbai & Responsive web design
Building a nice responsive website for your business, product or services has become immensely important in today's world. Having a website not only increases your reach and help in attracting more customers but it also highlights your digital presence. Limra Technosys is a leading website development & responsive web design company in Mumbai.India that has expertise in creating user-friendly, SEO friendly & appealing websites for your business. Whether you want a simple static website or a stunning dynamic website, Limra Technosys Pvt Ltd has a team of certified & experienced web designers & developers to create it for your business.Our team have unique skills in HTML5, WordPress, Css3,XML, PHP, Cloud, Framework, Database, coding, MySQL, Bootstrap & UI/UX . We use all these skills for our client's business growth.
In today's business, world website is your first impression of your business. So it should be usercentric, SEO-friendly and mobile friendly websites are must today. While designing a website first we plan and understood website objective and create the better user experience for new and existing customers. Then we focus on setting long term and short term goals for your website focused in the right areas, Simultensoly we take control on website cost & build time and release completely & quickly within budget. Establish a consistent look and feel that is in keeping with the clients brand as well as appealing to the target audience. Communication through website play a vital role in website designing, What do you expect from the website? clearly communicating this to a company is crucial.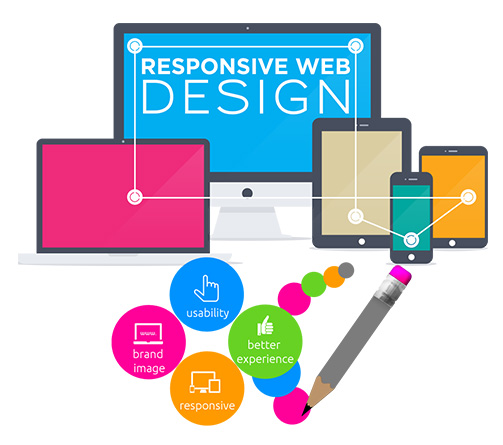 We design your website unique than other competitors. This factor plays an important role in spreading your brand through a digital platform. It is important to note that your website is a part of your brand's media strategy and therefore it should be different than most others website and brands. While providing website designing service we try to avoid the mistake in website design and make it attractive. It will be helpful for your business if your website can attract the internet users with its design. Therefore its important not to make a lot of mistakes in designing the website.
Is your website design Responsive?
Your website will play a crucial role if your website have responsive web design.  Today majority of the audience is accessing your website through their smartphones and tablets. And if your website is not responsive then your clients click through rate(Visits) will be very rare.Indirectly your website suffer from highly bounce rate and sthat will affect your business very adversely. While design any website we mainly concentrate on 3 things
1) Loading speed of the website
2) User friendliness
3) Responsive design
We provide you all types of website development services